Blue Screen Repair Canoga Park
There Are Many Issue That Can Cause A Blue Screen Of Death. It Could Be A Virus Infection, A Program Making The Computer To Crash (Like A Printer Driver), A Usb Device, A Corrupted Ntfs File System, Bad Sector On The Hard Drive, Bad Memory And Many More.
About All, A Blue Is Fixable And Your Information Most Of The Time Is Not Affected.
Fixing A Blue Screen Of Dead Can Be Fixed Within A Day Most The Time Depending On The Complexity Of The Problem, After A Blue Screen Repair Is Advisable To Do Maintenance And Computer Cleaning.
Nowadays, You Get This Issue In Numerous Times Because When The Operating System Changes Version Like From Windows Xp To Windows 7,  Most Programs If You Try Install Them Back And Forth Somehow Are Not Compatible And Make The Computer Unstable.
If You Have This Issue You Most Probably Get This Screen Or Another Kind Of Message like "Missing System File" Or Another Similar One.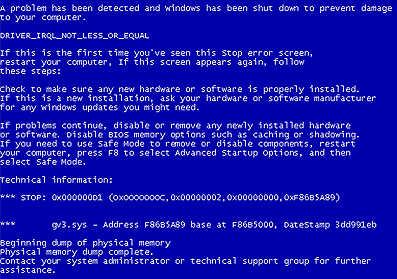 We Are Available To Response Your Questions, Call Us Today
Tags: "Computer Repair 91303 Computer Repair 91304 Laptop Repair 91303 Laptop Repair 91304